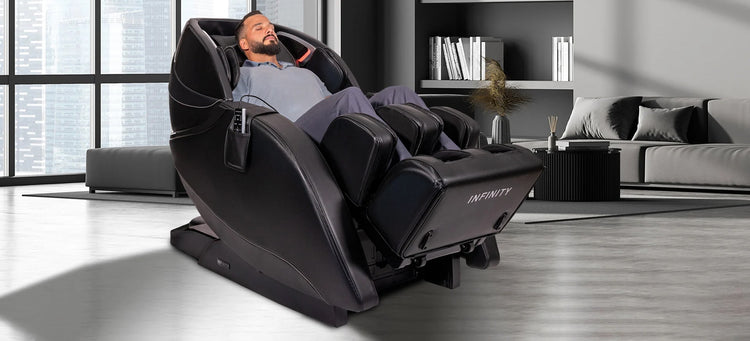 Returns + Exchanges
couldn't be easier
30-Day Hassle-Free Return Policy
Love your Massage Chair Guarantee
We take pride in our products and customer service, so your satisfaction is our highest priority. We have a 30-day return policy if you want to return your product. We make returning your massage chair easy.
Return Policy
Flat Fee Return - $250
No Restocking or Handling Fees
No Box $250 Charge
Customers returning Portable Massagers are responsible for return shipping
Return Policy Guidelines
Must be returned in its original boxes. If not an additional charge will be applied.
White-Glove Delivery is Non-Refundable. This is an additional service and therefore cannot be refunded. If you do return your chair and want white glove pickup, then there will be an additional charge applied.
Only orders in the contiguous US - It does not apply to Alaska, Hawaii, and Puerto Rico orders or international orders.
The chair must return with no damages to qualify for the flat-free return.
Financing Fees are non-refundable. These range from 10%-15%.
Flat Fee Return policy only applies to products purchased at the advertised price which includes any on-site promos. Purchased made at negotiated prices can be returned in 30 days with a full refund minus any shipping charges. Flat Rate Fee is per chair.
Exchange Policy
Like our return policy, customers have 30 days to exchange their massage chair for another model. The customer is responsible for shipping fees and white glove delivery fees. If the massage chair is defective, we will exchange it for the same model with no additional shipping costs. Once an exchange has taken place on a non-defective chair, it cannot be returned.
How do I return my product?
The return process is simple. Just contact an Emassagechair.com massage chair expert to get your Return Authorization (RA) number and the correct address to send your item. Please be sure that the item is returned in its original condition and that it is packed in its original boxes. Products returned improperly will not be accepted. Restocking fees and return shipping charges will apply.
Cancellations
We usually ship orders the next day, if you choose to cancel your order after your massage chair has shipped, you will be liable for any shipping charges incurred as well as a 3% credit card processing fee.