Svago Zero Gravity Recliners
Svago embodies the epitome of comfort and luxury. With a commitment to innovation, our brand seamlessly merges state-of-the-art technology with opulent craftsmanship. Svago is synonymous with unparalleled relaxation, offering a range of recliners designed to provide a weightless experience that rejuvenates both body and mind. Discover a world where comfort meets sophistication, where every detail is meticulously crafted to elevate your well-being and transform your space into a haven of tranquility. Welcome to the realm of Svago – where ultimate comfort and timeless style converge.
Swivel
Introducing the Svago Swivel Zero Gravity Recliner – a harmonious fusion of innovation and indulgence. Experience weightless relaxation as you recline effortlessly, while the swivel feature adds a dynamic twist to your comfort. Crafted with precision and wrapped in luxurious materials, this recliner elevates your space while offering a soothing retreat for your body and soul. Discover a new dimension of comfort with the Svago Swivel Zero Gravity Recliner.
Newton
Unveiling the Svago Newton Zero Gravity Recliner – a masterpiece of comfort and sophistication. Immerse yourself in a realm of weightless serenity as the Zero Gravity technology cradles you in blissful relaxation. Meticulously designed with a touch of elegance, the Newton Recliner transcends ordinary seating, inviting you to unwind in unparalleled style. Elevate your home with the Svago Newton Zero Gravity Recliner and redefine the art of leisure.
ZGR Plus
The Svago ZGR Plus Zero Gravity Recliner, where ultimate relaxation meets enhanced luxury. Elevate your comfort with Zero Gravity technology, as this recliner gracefully adapts to your every whim. Designed with meticulous attention to detail, the ZGR Plus redefines opulence, offering an exquisite blend of style and serenity. Embrace a new level of tranquility with the Svago ZGR Plus Zero Gravity Recliner – a true masterpiece for those who seek unparalleled comfort.
Lite
The Svago Lite Zero Gravity Recliner – a compact marvel of comfort and versatility. Experience the essence of weightlessness in a sleek and streamlined design, perfect for any space. Crafted to provide effortless relaxation, the Lite Recliner offers a refreshing escape from the ordinary. Discover a new dimension of comfort with the Svago Lite Zero Gravity Recliner – where compact elegance meets uncompromising tranquility.
Why Choose Svago Zero Gravity Recliners?
Unparalleled Comfort: Svago Zero Gravity Recliners offer a unique and weightless seating experience that relieves pressure on joints and muscles, promoting relaxation and comfort like no other. The innovative Zero Gravity technology cradles your body in a neutral position, allowing you to unwind and rejuvenate in utmost tranquility.
Exceptional Craftsmanship: Each Svago Zero Gravity Recliner is meticulously crafted with attention to detail and premium materials, ensuring a durable and long-lasting addition to your home. The combination of luxurious fabrics, precision engineering, and elegant design showcases our commitment to quality and sophistication.
Customizable Relaxation: Tailor your relaxation to your preferences with easy-to-use controls that allow you to adjust your recliner's position, massage settings, and heating options. Whether you're indulging in a book, enjoying a movie, or simply taking a moment for yourself, Svago provides a personalized and soothing experience.
Wellness and Health Benefits: Svago Zero Gravity Recliners aren't just about relaxation; they also offer potential health benefits. The Zero Gravity position has been associated with improved circulation, reduced back pain, and enhanced respiratory function. Incorporating a Svago recliner into your routine can contribute to your overall well-being and make your home a haven of wellness.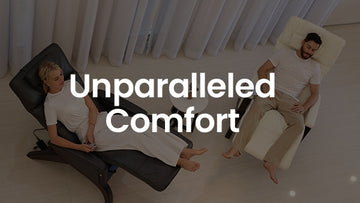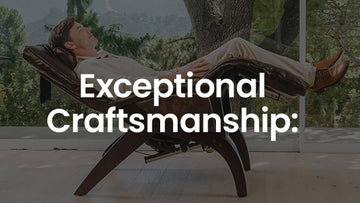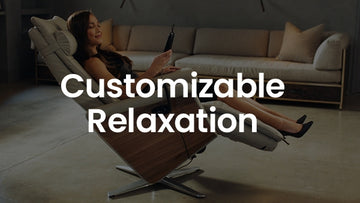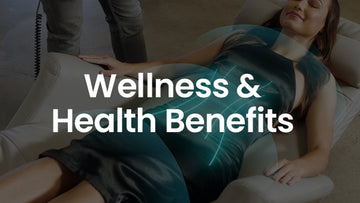 Helped with Back Pain
"My back pain has been getting worse for years. Did some research and came across this chair, and it has really helped with my back pain. I did have one issue with using the chair, but I called James at Emassagechair, and he was quickly able to help. Great customer service. Overall I love the chair, and I am very happy with it."
Great Product!
"Great looking and quality chair. It was simple to assemble, and the zero gravity is amazing. I fall asleep nearly every time I use the chair."
Excellent
"Excellent. My husband has had several back surgeries. He sleeps many nights in this chair because he can't get comfortable anywhere else."
Bought a Second Chair
"I bought this chair for my husband last November. He loved it so much, that I decided I needed one too. I love that it heats and how comfortable it is."
Best Purchase
"One of the best purchases ever. I have had back pain for sometime, and this chair really helps. I love the heat and massage features. The chair is very sturdy and looks great too!"
Can't live without it
"Excellent chair. I am currently recovering from a back injury and it is the only place I can sit (or sleep comfortably). Everything is top notch and works as described."
Experience the Future of Relaxation
Elevate your relaxation journey with Svago Zero Gravity Recliner. Explore our diverse collection and find the zero gravity recliner that complements your lifestyle seamlessly. Whether you're seeking solace after a demanding day or striving to enhance your well-being, Svago presents a tailored massage chair experience crafted just for you.